Cabinets are one of the most essential elements of every kitchen. Only cabinets are successful in fulfilling the storage needs of kitchens. Custom kitchen cabinets are in vogue today for they do not just fulfill the storage demands of householders but also look great. These customized cabinets can enhance the beauty of your kitchen and upgrade its value. Since a number of reasonable customized cabinet models are available in the market, even people with limited means can install custom cabinets in their fitted kitchens. But then it is extremely imperative to choose the correct model of custom kitchen cabinets that would match your requirements and kitchen décor.
Custom cabinets are generally big investments that can add up to 60 percent of a kitchen's value. This is the reason why householders spend a lot of time and energy in selecting a cabinet collection for their kitchen. The greatest difficulty that one faces while selecting custom cabinets is the plethora of collections. With a variety of options available for sale, the task of selection becomes quite difficult. There are certain factors that one can consider in order to limit their choices and make this task easier. The custom kitchen cabinets should only be purchased after considering the layout of your kitchen, its style, decor, your cooking style and kitchen needs. Customizing a cabinet collection is like manufacturing it as per your requirements. Therefore, you need to ensure that the cabinet collection you select meets your needs efficiently.
Professional guidance can be of great aid in this regard. Whether it is an architect or a designer- any and every professional will help you to make the best possible choice. Cabinets are available in different types of materials but not all of these materials would suit your kitchen decor and your requirements. So cross out the cabinet collections that are not manufactured of the materials that suit you the most. The style of the custom kitchen cabinets that you would install in your kitchen should be in keeping with your kitchen style. Moreover the size of your cabinet should be commensurate with the available space. Once you start considering these factors, the options will automatically shrink, thereby offering you some relief.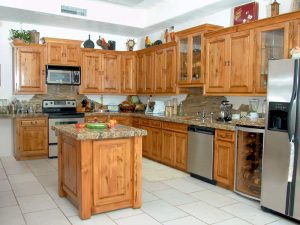 You might have some particular preferences when it comes to the furniture manufacturing companies. Therefore, you should browse through the collections of these manufacturers first. While browsing through them you might end up finding a collection that you like. This would free you from the hazards of looking for different furnishing collections and thus wasting valuable time and energy. The features in every custom kitchen cabinet will not be similar and every feature will not be of use to you.
Therefore, it is always feasible to choose a collection that incorporates features that you need. Also do not forget to consider your budget. Your aim should be to stay within your budget; hence, make your search on the basis of your budget.
Selecting custom kitchen cabinets for your kitchen is no easy task. There are many factors that must be considered before making a final decision about which custom kitchen cabinets will work best in your home. Don't let this stop you though. Choose custom kitchen cabinets in your home is one of the greatest investments that you can make in your home. You spend an enormous amount of time in your kitchen. Today most family interaction takes place in the kitchen whether you are just passing while getting a snack or sitting down as a family to share a meal. Make your kitchen reflect you and your family and more important make it a place where everybody can feel comfortable with each other to spur greater interaction.
For more information you can call us 01332 806886 or email us [email protected] and you can also visit our website at https://www.qualitykitchendoorsderby.co.uk/.