Giving your kitchen an update to make it look stylish and brand new is easier and cheaper than you think! The first thing that most people see when walking into your kitchen is the style and condition of your cupboard doors – don't let broken designs damage the look of your kitchen!
Replace kitchen doors
If the old designs are damaged or out of date then the easiest way to improve the look of your kitchen is to get new cupboard doors. There are a large range of styles, colours and finishes available that will accommodate all sorts of tastes and budgets. Most suppliers offer standard or custom sized designs to match your specifications, making sure that the doors fit perfectly. When picking the style and colour you should pick accessories to match your new doors, helping them to blend together and helping your kitchen create a big impression.
Sizing up
The majority of kitchen doors come in a range of standard sizes, however some tailored kitchens have custom built doors to fit specific cupboards. To make sure that you have a high quality kitchen with fittings and drawers you need to ensure that you have carefully measured all the doors you wish to replace, checking for any variations. To get the most accurate measurements you should take the readings in millimetres, marking the height and width of the doors.
Hinges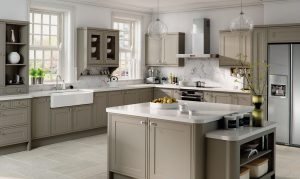 When replacing the doors you will need to make sure that you have marked where the holes need to be to fit your hinges. Unless your hinges were previously broken, you should be able to reuse the old hinges to fit to the cabinet.
Make sure you mark whether the door opens to the left or right hand side to save you accidently putting on a door upside-down and drilling the holes in the wrong place.
Fitting
Once you have measured, selected and purchased your replacement kitchen doors the next step is to fit them in. Fitting is a two-step process, simply remove the old designs from their hinges and then replace your kitchen doors on the old hinges in the same unit. This gives your cabinets a brand new feel and makes your kitchen look like you've had a lot of work done without breaking the bank!